There are only two other hobbies in my life that I enjoy as much as learning about skincare: writing and running. For the past month, I decided to take a break from the blog and focus more of my energy on a writing project (yes…it was NaNoWriMo) and it was time well-spent!
Anyway, I have also been hesitant to return because, like most kick-starting bloggers, I wondered if anyone seems to care about what I was writing…or the advice I had to offer about skincare. Recently, however, I have been receiving so many questions from you (mostly FB friends and some family members) regarding specific skincare issues. I quickly realized three things that you (my audience) wants:
Advice for your specific skin type.
Cheap ($) options.
Local options.
I always assumed that with the internet being such an advantage, I could provide you with better options through ordering online. However, I have realized that many of you don't like the 3-5 day wait, or to pay extra for shipping, when you can just run across the street to your local Walmart, and get–what you may consider–just as good-quality of a product with the added luxury of receiving it promptly.
However, if you're going to shop at Walmart, please pick products with clean, skin-benefiting ingredients! It is so easy to see the claims made on the side of the bottle, or give into the $5 product vs. the $15 product, but I promise you that items with parabens, petroleum (pore clogging), and drying ingredients like Ethanol and Isopropyl alcohol and sulfates will only make your skin issues worse. Thus, I have created a list of advice, products/brands that you should look for at Walmart.
Water, Water, Water
Before you use anything on your skin, make sure your diet and drinking habits are in check. You may think you have a dry "skin type" now that winter has swept in, when in fact you're simply dehydrated. They're two very different things. Dry skin=Good thick moisturizer. Dehydrated skin=water, water, water. We're supposed to drink 64oz. of water daily just to stay hydrated. One gallon if you're trying to flush out your body. Either way, it's a struggle. Here's the trick: Get a good, sturdy water bottle.
Walmart, $11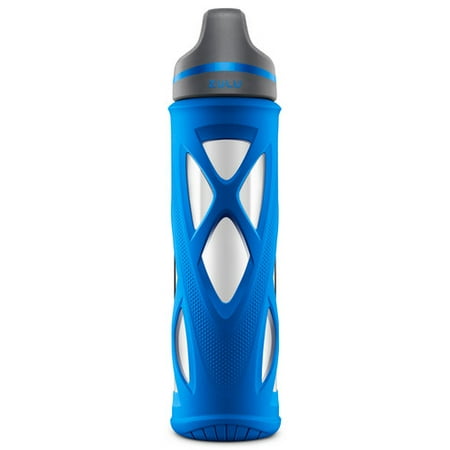 Yes to…Goodness
Carrots, Tomatoes, Blueberries, Cucumbers, Coconut, Grapefruit…etc. I had never heard of the brand "Yes to" until I saw it at Walmart, and I tried their Yes to Cucumbers cleanser, and their Facial Wipes. I was hooked. If you struggle with acne-prone skin, I would recommend trying their
Yes to Tomatoes Clear Skin Detoxifying Charcoal Cleanser
(also in solid bar form)
Walmart, $9
Can't Go Wrong with Burt's Bees
Burt's Bees has been a constant for me. Stocking stuffers? Burt's Bees chapstick. Dry hands? Burt's Bees Hand Salve. Cracking skin around your nails? Burt's Bees Cuticle Cream. And every time I need an emergency cleanser or spot treatment, Burt's Bees is my go to. I think this brand is way underrated for the results that I have received from it. Give it a try with a good, thick, hydrating moisturizer:
Burt's Bees Intense Hydration Night Cream
Walmart, $16
Look No Further
I've been in the Walmart in California, Idaho, and Utah, and they're all pretty much set up the same way. When you go into the beauty section, there is a designated "Natural" section. Some literally are labeled "Natural." When you find Burt's Bees, you've hit the jackpot. You'll also find similar natural brands such as: Yes To…, Avalon Organics, Alba Botanica, and Shea Moisture. Each of these brands I have tried, and I can attest to their good benefits for your skin. Sometimes it's a constant test of trial-n-error with these brands, but that's why I make sure to research a product before I walk into Walmart, or read through the reviews before buying a product.